Buying a used car is not without risk. If you are reading this, you have unfortunately had to experience it. It is therefore wise to do a purchase inspection at, for example, My Autocoach.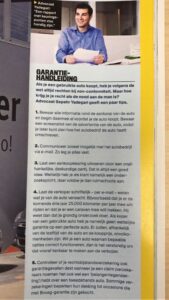 But what if the car has already been bought and it's not what you expected? There are flaws you didn't know and didn't expect? And the seller does not want to help you (free of charge). Do you have to accept it or are you entitled to more?
The question is whether you are within your rights and whether it makes sense to do so.
You can contact me without obligation and maybe I can help you 'on your way' for the time being. My contact details can be found below.
I first want to make a quick inventory of your situation and if possible I can already tell you what to do yourself, what you can still do yourself and what you should think about in your case for a possible outcome.
Think of capturing the sales ad, messages to and from the seller (WhatsApp/mail/etc.), what your expectations should be based on the year of construction, mileage, price of the car and finally even whether it is a premium brand.
Based on the license plate number and a quick search on, for example, gaspedaal.nl we can see if you have paid a particularly low, normal or perhaps even high price. It is good to record this as soon as possible after the moment of the purchase. Too low a price should create lower expectations. A normal or high price compared to other cars offered means that you could also have normal expectations with the car you purchased.
Direct contact?
The first phone call is free and without obligation.
Tel.:020 – 244 3900
e-mail: advocaat@sepehr.nl